This rich, buttery, creamy chicken needs no introduction. Most probably the best known of all Indian dishes loved by all age groups from 8 to 80.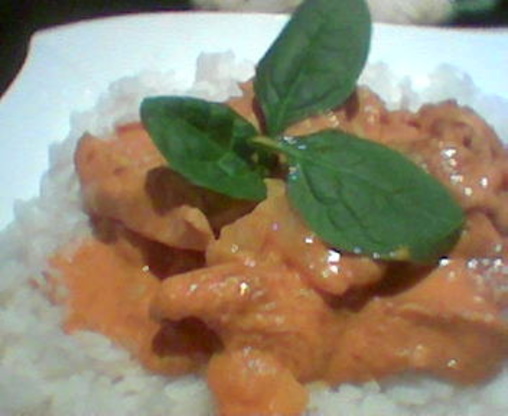 Butter Chicken is a heartwarming favorite at my home, I make it in family parties and always receive hugely enthusiastic reviews from them. As for me, it refreshes many happy memories eating out with my friends during regular hang- outs and road trips.
History
Some say that the British came up with this recipe and some believe t
he recipe is said to have originated in a restaurant called Moti Mahal in Delhi, India.
Kundan Lal Gujral, a Hindu, originally from the undivided India's Peshawar in Punjab, fled to India following the partition. He was ingenious enough to overcome the times of political upheaval and open a restaurant in Old Delhi. This restaurant, became internationally acclaimed for its tandoori creations—apparently Kundan's inventions. Tandoori chicken, butter chicken, and dal makhni were served by elegant Peshawaris dressed in pathani suits to desi and foreign diners who stopped by for its celebrated dishes. The restaurant became a landmark in Delhi, and was sought after by famous visitors including world leaders like Jawaharlal Nehru, Indira Gandhi, Bhutto, Kennedy, and the like. Thus began the popularity of Butter Chicken.

Asian Slow Cooking


I generally cook from the scratch but if you don't prefer cooking with these many spices, may add garam masala powder and curry paste for the marinade.

Ingredients
Sauce
2 lbs boneless skinless chicken thighs
1 onion, sliced
6 garlic cloves, chopped
4 tablespoons butter
1 cup half and half
2 big tomato (grind it yourself)

Marinade
1/2 teaspoon cayenne pepper
2 tbsp cumin powder
2 tbsp coriander powder
1/2 teaspoon ground ginger
1 tbs can tomato paste
1 cup cashew nut paste
1/2 tsp fenugreek powder
2 tbsp lemon juice
1 cup plain yogurt
1 tbsp cardamom pods
2 tbsp cinnamon powder
1 tsp pepper powder
1 tbsp anise powder
Direction:
Marinade
Cut the chicken in bite size . Mix all the spices for marinade. Keep two tsp aside.Mix the chicken, lime juice, salt and the spice mix in a large, non-metallic bowl. Cover and allow to marinate for 1 hour.
Slow Cooker
Heat the oil in a deep pan on medium heat. When hot, add the onions. Fry till a pale golden brown in color and then grind it to a paste.

Put chicken in slow cooker, and add onion paste.Add all the other ingredients including the 2 tsp spice mix except milk Plop in the butter .
Add the milk gradually with stirring continuously. Cover and cook on low for 8 hours, or high for 4hrs. The chicken should shred easily with 2 forks when fully cooked.
Serve with white Basmati rice or Naan.